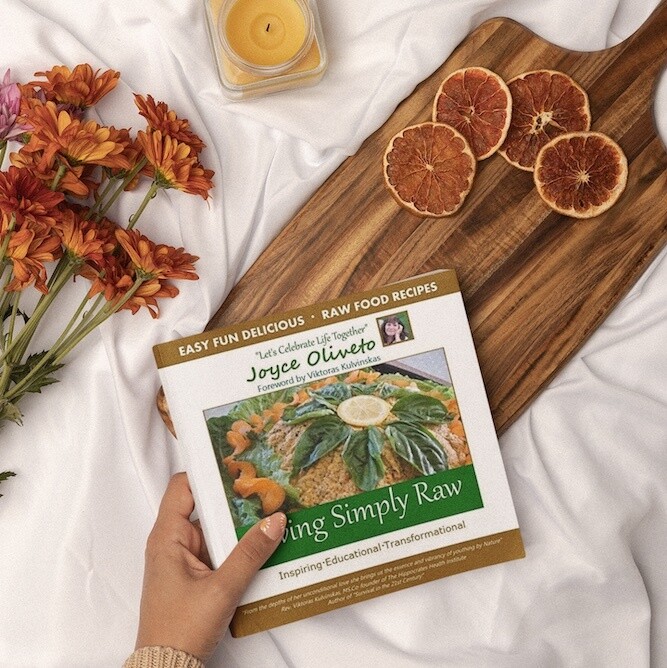 "Living Simply Raw" by Joyce Oliveto
ED-LSR-SCBK-401
40 Years of Raw Food Wisdom in One Book!
Product Details
Living Simply Raw is inspiring, educational and transformational.
40 years of living and raw food wisdom in one book - This is a great manual for both the advanced and those who have just discovered the wonder of a living foods lifestyle.

Joyce has taken the traditional American foods and ethnic foods and has manifested a delightful raw food repertoire with creativity and ease. Now, you too can experience that kind of optimal shift with her support and delicious recipes. Her passion for raw and living food can inspire anyone to understand what it means to give the gift of vitality to yourself and your family. Her book will help you maintain veganism or inspire you to incorporate more living and raw lifestyle changes and excite you to make delightful meals that are alive.
Living Simply Raw walks you through understanding how simple and easy not only preparing raw and living food is but also how to simply set up your raw food kitchen, raw food pantry, refrigerator and what prepared foods to have on hand.
You will learn how to transition into the raw food lifestyle. Learn how enzymes affect the healing and aging process. Joyce also shows you how to set up indoor gardening and grow indoor greens with ease. Learn the steps for easily preparing dehydrated delicacies, from crackers to breads, to cereals and desserts.
There are 190 easy-to-prepare, delicious recipes that will delight your taste buds with layers of flavor and texture. Appetizers, soups, entrees, sides, wraps and spreads, dips and dressings, salads, smoothies and nut milks, crackers and crisps, breads and doughs, cereals, cookies and treats, ice creams and nut creams, crusts and pies.
ISBN-10: 0990560104
ISBN-13: 978-0990560104
Save this product for later