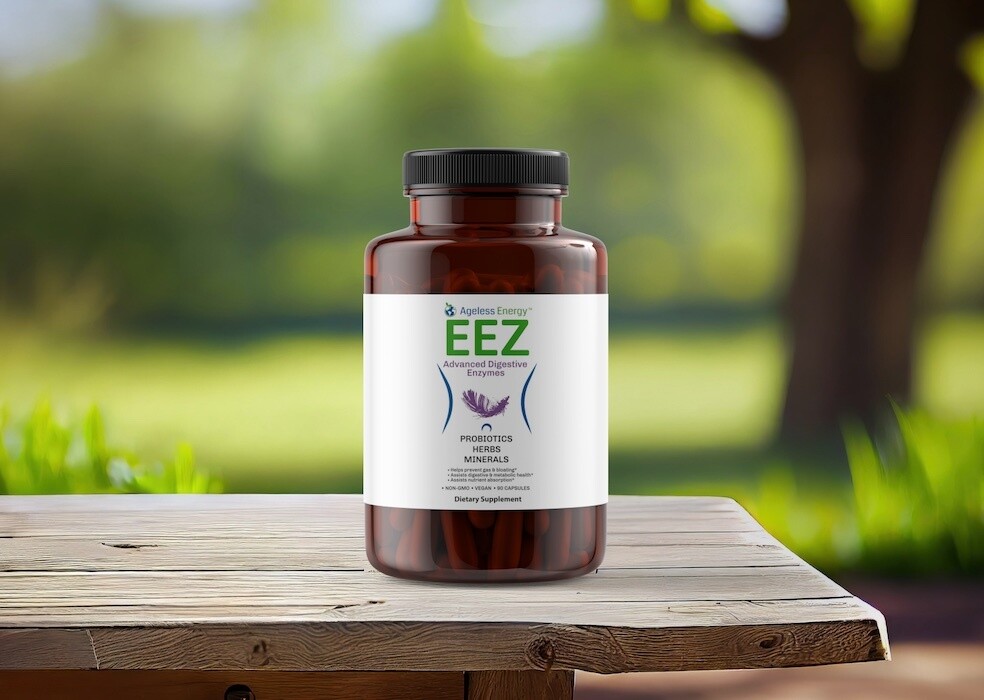 EEZ Advanced Digestive Enzymes
EEZ-ENZ-90T-301
Product Details
EEZ ADVANCED DIGESTIVE ENZYMES provide a complete digestive enzyme matrix for maximum digestion of proteins, carbs, fats, and starches. It is a proprietary combination of ingredients specifically formulated by Viktoras Kulvinskas for Joyce Oliveto. This formulation is designed to help and support digestion, allowing food to move further down the digestive tract and through the small and large intestine.

THE IMPORTANCE OF DIGESTIVE ENZYMES AND THE ROLE THEY PLAY IN OUR BODIES
Wellness is a conscious choice to continually improve your overall quality of life. We have a choice. We are either moving toward degeneration and dis-ease or we're moving toward regeneration and rejuvenation. Our bodies have the ability to heal if the proper conditions are present. Digestive enzymes play a vital role in this process.
What is your why?
Today's food processing techniques (cooking, microwaving, etc.) destroy enzymes in our food. Enzymes begin to die at 115-118 degrees. As heat rises, more and more enzymes are destroyed. Cooking destroys all enzymes and many of the vitamins present in each category of food. For example, if you put a salad together mixed with several types of greens, it's much more nutritious and easier to digest than if it were cooked. Environmental factors such as pesticides, herbicides, radiation, and fluoridation, also greatly diminish food enzymes.
There Are Three Major Classes of Enzymes
Metabolic enzymes are found (and should be present and active) in every organ, tissue, and fluid in our bodies. Metabolic enzymes regulate every biochemical action and reaction that is required to sustain life. The body has the ability to borrow from our metabolic enzyme banks when it does not have enough digestive enzymes. We do not ever want to borrow from our metabolic enzyme bank. This is very important for a strong immune system.
Digestive enzymes are secreted by the pancreas and other digestive organs after food is introduced into the body. A significant number of studies have shown that the human pancreas has enlarged over time in relationship to body size and weight, when compared to other animals. Animals in the wild do not eat cooked food. Food enzymes are found in raw, uncooked foods.
There Are Four Major Categories of Enzymes:
Protease - Protein-splitting enzymes
Amylase - Starch- and carbohydrate-splitting enzymes
Lipase - Fat-splitting enzymes
Cellulase - Cellulose-splitting enzymes
All foods when raw contain the needed enzymes associated with them. Each category of food has its own enzyme present in the correct proportion to digest it, unless it is cooked. Enzymes are necessary throughout the human body to break down toxins, build protein into muscle, eliminate carbon dioxide from the lungs, boost immune system activity, and much more. Eating enzyme-deficient foods (cooked) without taking digestive enzymes can cause overstraining of the digestive organs as they try to replace the missing digestive enzymes. This in turn causes the immune system to mobilize enzyme activity simply to digest food.
An enzyme is the life force that manifests through certain protein molecule forms. Think of a light bulb as a protein molecule. It is inactive until an electrical current is passed through it. This is the same kind of activity within the enzyme.
White blood cells should be enzyme rich and their job is primarily to digest foreign bodies in the blood. Deficiency of enzymes can lead to eventual hypertrophy of the pancreas, i.e., breakdown of the organs responsible for the production of enzymes.
This can lead to general weakening of the immune system, which leads to degenerative disease and rapid aging. Studies have shown that virtually all disease can be traced to missing or faulty enzymes and that the length and quality of life is directly proportional to the levels of enzyme activity in the body. There is a direct connection between the strength of our immune system and our enzyme levels. The more enzyme reserves we have, the stronger our immune system will be; the stronger and healthier we will be.
Save this product for later